The Birds of Zambia:
A birder's Paradise
By curtsey of the Zambian Ornithological Society
If you're interested to know something about birds of Zambia you first appreciate the country's landscape. Zambia boasts large tracts of pristine wilderness. To a large extent the vast majority of Zambia's avifauna is that of the Central African Plateau. The vegetation is principally miombo woodland. In a lot of places it's bisected by grassy dambos along drainage lines.
In some areas other woodland types, dry forest or thicket replaces the miombo woodland. Along watercourses there may be riparian forest or wet evergreen forest in wetter areas of northern Zambia.
Among the birds of Zambia only one species is totally endemic to Zambia, the Chaplin`s barbet of fig trees in the Kafue basin. The black-cheeked lovebird`s breeding population is confined to an area in the southwestern Zambia. By February 2002 the Zambian Ornithological Society recorded 749 bird species but the search continues.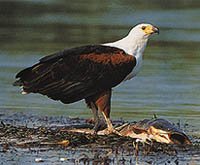 The Fish Eagle - Zambia's Emblem
The Miombo woodland is the dominant vegetation. It has little under growth and therefore is easy to walk through. The key to successful birding is in locating areas where birds of Zambia are found. So contact your safari operators to give you a list of some of the top birding destinations. Most of these habitats have a distinctive set of birds...
Bangweulu Swamps
The Bangweulu Swamps are found between Serenje on the Great North Road and Samfya town on the shores of Lake Bangweulu. The rare shoebill is found here.
Other birds are denham`s bustard, common bittern, white-cheeked bee-eater, rosy-breasted longclaw, wattled crane and swamp flycatcher.
Chimfunshi Wildlife Orphanage
Chimfunshi Wildlife Orphanage is the world's largest chimpanzees orphanage 60km west of Chingola. Chimfunshi run by the Siddles (David and Sheila) also nurse a host of other wildlife orphans. However, Chimfunshi is a great birding spot.
Birds commonly seen include pale-billed hornbill, purple-throated cuckoo-shrike, central bearded scrub robin, bocage`s robin, evergreen forest warbler, laura`s warbler, black-collared eremomela, splendid starling, chestnut-mantled sparrow-weaver, sharp-tailed starling, white-chinned prinia, sousa`s shrike and red-capped crombec.
Lochinvar National Park
Lochinvar National Park is a few kilometres outside Kafue National Park but on the northern side of the Kaue River in the Kafue Flats. Kafue Flats is a large estate of wetland northwest of Monze town in southern Zambia.
Lochinvar is Zambia's premier bird sanctuary and a great watching land for birds of Zambia. It's considered the best wetland birding in the world with tens of thousands of waterbirds.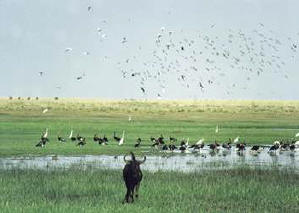 Birds 'Clouds' at Lochinvar Bird Sanctuary
These birds are slaty egret, wattled crane, common pratincole, white pelican, saddle-billed stork, denham`s bustard, yellow-throated sandgrouse, caspian plover and many palearctic waders and it's very good for raptors.
Mwinilunga
Mwinilunga is in the far north-west corner of Zambia near the border with Congo. Birds from Congo are frequent visitors there. The source of the Zambezi River is in Mwinilunga at Kereni Hills. Within the vicinity are the Zambezi Rapids and Chitunta Plain.
The Birds of Zambia found here include: grimwood`s longclaw, black-collared bulbul, Angola lark, black-tailed cisticola, Rufous ant thrush, afep pigeon, white-spotted flufftail, olive long-tailed cuckoo, blue-breasted kingfisher, brown-eared woodpecker, chestnut wattle-eye, black-and-rufous swallow, honeyguide greenbul, bristlebill, grey-winged robin, bamboo warbler, spotted thrush-babbler, Margaret`s batis, red-bellied paradise flycatcher, Bannerman`s sunbird.
Nkanga River Conservation Area
Nkanga River Conservation Area is in Choma area in the Southern Province of Zambia. This is the best site for Zambia`s endemic, Chaplin`s barbet. It's the gateway to the Victoria Falls, Kafue National Park and Lochinvar Birds Sanctuary.
Birds found here include: crowned eagle, 6 species of francolin, streaky-breasted flufftail, sooty chat, miombo pied barbet, white-winged black tit, green indigobird, Narina trogon, African broadbill, Shelley`s sunbird. Black-cheeked lovebird is found in Kafue National Park nearby.
Nyika National Park
Nyika National Park is in the northeastern Zambia on the border with Malawi.
Common birds are bar-tailed trogon, olive-flanked robin, sharpe`s akalat, African hill babbler, silvery-cheeked hornbill, red-tufted malachite sunbird, Bertram`s weaver, mountain marsh whydah, white-chested alethe, mountain yellow warbler, moustached green tinkerbird, waller`s red-winged starling, chestnut-headed apalis, blue swallow, hildebrandt`s francolin.
Shiwa Ng`andu
Shiwa Ng`andu is an English manor house, a spectacular estate near Mpika made famous in the best-selling book "The Africa House." Shiwa Ng'andu operates as a lodge and quite a special one too.
The birds of Zambia found around here include: white-headed saw-wing, bocage`s robin, stout cisticola, bar-winged weaver, Böhm`s flycatcher, white-tailed blue flycatcher, red-and-blue sunbird, black-chinned quailfinch, Fülleborn`s longclaw, ross`s turaco, long-toed flufftail, yellow-bellied hyliota.
South Luangwa National Park
South Luangwa National Park west of near Chipata in the Eastern Province of Zambia is the most popular national park for big game viewing. It's camps and safari lodges are well renown for elegancy and comfort some extremely opulent.
Birds
include: bat hawk, pel`s fishing owl, Lilian`s lovebird, African skimmer, southern crowned crane, African pitta, southern carmine bee-eater.
Visit Tourism archives to learn more about Zambia safaris.
For more information on birds of Zambia and a full Zambian checklist, contact the Zambian Ornithological Society or email them at zos@zamnet.zm
---
Home | Victoria Falls | Car Rental | African Art | Africa Travel | Adventure Travel | About Us | Zambian Tourism | Archives | Search the Site |

Zambia African Safari © ZAS 2004
---