What Is Offered Here Is Southern Africa's Best Adventure Travel
While visiting in Zambia and thinking of adventure travel don't miss out on the Adventure Centre in Livingstone town, Zambia's tourist capital. The adventure holidays offered are one of the best and most varied adventure activities.
The Adventure Centre hosts several adventure companies. Take a pick and enjoy an adventure safari of your choice. The adventure tours can also be arranged from the comfort of your hotel lobby. Travel agents will advise and guide you.
Consider the legendary walking safari that started in Zambia's South Luangwa National Park. It's very popular and a great treat. The chance to see more wildlife and appreciate the beautiful landscapes is unparalleled.
If you're a love of wildlife but you're not able travel right now take a look at these beautiful Wildlife Pictures from Africa . It's as if you're in Africa!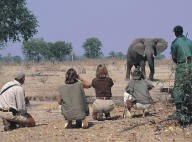 The Legendary Walking Safari
Don't be left out if you are out going and adventurous. You will discover why Zambia, Africa's best-kept secret, is the emerging prime tourist destination of choice in Africa today.
Savor it and make the secret yours! It will be a thrill of your lifetime. And below here is your array of choices for the adventure travel to meet your personal satisfaction, and that really is a promise!
White water rafting on 23 wild Zambezi River rapids below Victoria Falls

Canoeing safaris along the Zambezi River

River-boarding by surfing the Zambezi below Victoria Falls

Houseboating on Lake Kariba. Experience the exquisite sunsets and star gazing.

Bungi jumping off the Victoria Falls Bridge, a 111m free fall

Legendary walking safaris are the best on the continent

Abseiling the gorges of Victoria Falls

Horse riding safaris, a unique way to view game

Tandem kayaking, an experienced kayaker will take you through the raging rapids of the Zambezi - great fun and quite safe.

Fishing such as fly fishing, tiger fishing, are some of the best fresh water fishing

Elephant back safaris, tame elephants give the best view for game viewing in the Mosi-o-Tunya National Park.
One guarantee! The contagious "Simply-Love-Zambia-Safari-Bug" will affect you. Once "infected" you will always remember Zambia as Africa's best adventure on offer.
Zambia, the adventure travel country, is home to the Victoria Falls, teeming wildlife and warm African welcomes …all in one friendly country!! Take a plunge, Visit Zambia in 2005! for the duet cerebration
Your visit is not complete unless you visit these unique adventures:
Zambia's steam safari, a luxury locomotive of the past! Scuba diving safari, a challenge from an inland lake Travel into Zambia and be received like Royalty To arrange your visit and have an enjoyable, smooth safari and adventure travel please contact a travel or tour operator of your choice . As an incentive the government of Zambia will waive your visa fees if you make your travel arrangemnts through a local operator.
There are many water sports and aquatic excitement at Siavonga a safari town on the lakeshore and join in the fun of wakeboarding on Lake Kariba. And great birding awaits you
For your booking reservations visit here at Boomer Travel
FunTripsLIVE , Not Your Ordinary Travel Guide! Come along on our LIVE trips - ask questions, post suggestions and win special gifts from the featured areas!
---
Home | Victoria Falls | Car Rental | African Art | Africa Travel | Adventure Travel | About Us | Zambian Tourism | Archives | Search the Site |

Zambia African Safari © ZAS 2004
---