…and all of this in one friendly country!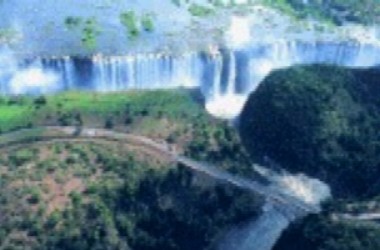 Arial view of the awe-inspiring Victoria Falls
The legendary walking safaris started by Norman Carr continue to be South Luangwa National Park's best attractions. The safaris are personally arranged by Norman Carr Safaris .
Zambia safari is the epitome of African travel. To start with visit the world famous heritage, the mystic, awe-inspiring Victoria Falls and…there are about twenty other waterfalls too. Your bookings for accommodation will be ably accomplished by the many car rental and safari operators ready to help you enjoy the Zambia safari. As you travel around the country African art will become evident. So visit the art galleries and traditional villages.
In Livingstone town the adventure centre will dangle in your face the wildest in adventure travel. Then consider discovering more of the marvel of Zambian tourism or alternatively, access the tourism archives by clicking here . And don't forget that the kingpin of Zambia safari and tourism is the teeming wildlife estate in Zambia's national parks .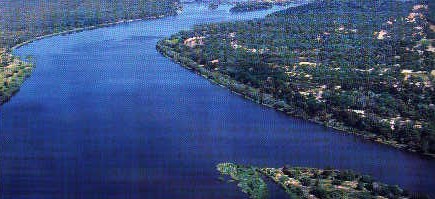 The Great Expanse of the Lower Zambezi River.
The Lower Zambezi National Park is in the Background to the Right
Visit Zambia and learn more about Zambia safari! You'll discover why Zambia is the award wining country in African safaris…the tenth ranking in "long-haul destinations,"…the "best southern African country" in 2004. And named as No 1 emerging tourism destination in Africa by the World Tourism Organisation.
And before I forget it, visit Zambia in 2005 is a double, a duet celebration: a few centenaries and 150 years!
As my wife, Molly, would say, "let's stop beating about the bush and get on" the safari. Read more about Zambia the African Safari, right below here!
The Zambia Safari Blog promotes Zambia safaris, tourism and all things Zambian...
Zambia African Safari promotes Zambia safaris and tourism. Conservation of wildlife and the environment through Zambian tourism...
Contact us page with all the contact addresses for Zambia African Safari.com
Zambian safari is the African Safari... Simply a safari nation of abundance, friendly and warm African welcome…
This is Zambia, a natural paradise in Africa with warm friendly people, abundant wildlife and spectacular scenery. Zambia is Africa's adventure centre and home to the awe-inspiring Victoria Falls…
Zambian Tourism, the land of the legendary African walking safari, earth's biggest waterfall, the wild Zambezi River, exquisite lakes, profusion of birds and wildlife, …all in one friendly country
Tourism Archives is your old friend, an old friend indeed. Grab your info on Zambia's tourism, safaris, wildlife and the environment. Read an article on interesting places and tourist attractions
Victoria Falls, one of the world's greatest natural wonders, is named after Queen Victoria, but before that the Kololo tribe described it as Mosi-oa-Tunya - the Smoke that Thunders
Zambia's wildlife is an incredible natural heritage with many unique species of wild animals. The wildlife asset includes birds, a whopping 749 bird species …and superb twitching!
Enjoy the hospitality of the hotels in Zambia! Marvel at the architectural designs and beauty depicting changing themes and moods of the landscape
Zambia's 19 national parks and private game reserves cover a total of 47,662 square kilometers. Most popular of these are the South Luangwa, Mosi-oa-Tunya, Kafue, Lochinvar, Lower Zambezi, and Sumbu.
Zambia is Southern Africa Adventure Centre. The Zambia safari adventures embrace the mighty Zambezi, the Victoria Falls, the Batoka George, the water rapids, the railway line, the Zambezi islands…
Meet your car rental Zambia and travel agent. Take custom designed or tailor-made trips anywhere in southern African. Your vacations and travels will be enchanting and captivating.
Discover Zambia, the African safari. an enticing tourist destination in Africa. Abundant wildlife, exquisite sunsets, and 73 ethnic groups…all in one friendly country
Zambia African art, handicraft, curios, artifacts, etc are exotic. They will bring a smile to your face. A smiling face is a reflection of a relaxed mind.
Zambia is a fascinating destination for Africa travel. When African travel is destined to Zambian it is our business. So when you want exciting experiences, Think Africa!
Zambia safari news and related safari tit bits. Visit to sample to your satisfaction …and don't forget to get your travel or safari knowledge!
Site Build It! creates a web site that works…and it can be for a safari hobby …or even for small business
The adventure travel offered in Zambia is unique. It consists of most varied adventure activities. They're Southern Africa's best adventure travel on offer. Take their offer and enjoy yourself
Links exchange a cache of related links for Zambia African Safari.com. You'll not lack for travel or safari knowledge!
Site map for Zambia African Safari.com
Real-time site management strategies of the Internet's leading Web marketing company, SiteSell.com
A safari in Africa is great and memorable. Enjoy it! But learn the absolute Ten African safari tips before you GO! …your advice and recommendations are here
The Zambia African Safari web site has continued to grow, so has the information overload. Use this site search engine …it's simply a bliss…
If you're a lover of wildlife, enjoy safaris or you're a conservationist, and /or have interest in safari business, and who says you can't add a bit of business subscribe to Africa's Best Kept Secret
South Luangwa Zambia's premier safari destination and Africa's largest concentration, varied wildlife, and sprawling sanctuary…
Chanters Lodge in Livingstone is the comfortable, affordable accommodation that epitomes the height of personalised service!
Zambia safari has some of the best safari lodges in Africa. Many are found in major towns and cities but the "best of breed" are theme-designed hotels and lodges found near national parks …
Tell us you story about your experience with Zambia, the African safari.