Chanters Lodge, Livingstone
Small, Pleasant and Personalised Service
After a satisfying safari tour or even a long flight, and both take place here, you'll want what Chanters Lodge does best… A well-deserved rest in a comfortable garden, on a lounge chair, a cool long drink and pleasant surroundings. Add to that the personal touch that Chanters Lodge is renown for.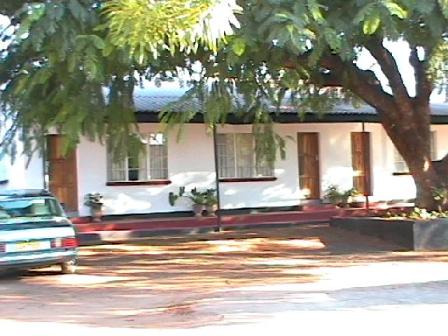 The bright Chanters Lodge, Livingstone
Chanters Lodge one of the first small lodges in Livingstone offers comfortable, affordable accommodation in quiet surroundings. Relying upon his vast experience in the Zambian hospitality business Richard Chanter established Chanters Lodge in 1998. He's a professional UK trained hotelier who understands the hotel industry in Africa. Before now he was the general manager of one of Lusaka's leading hotels.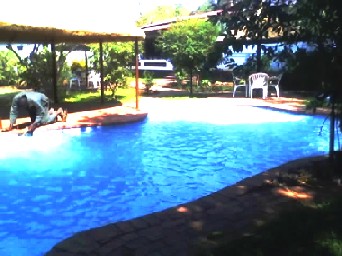 Chanters Garden Pool- The Cool Water to Soothe You
Chanters Lodge is thoughtfully located, only 10-minute walk from Livingstone's central business district, 8 minutes of driving from Livingstone International Airport and a 20-minute drive from the world's largest curtain of falling water, the mighty Victoria Falls.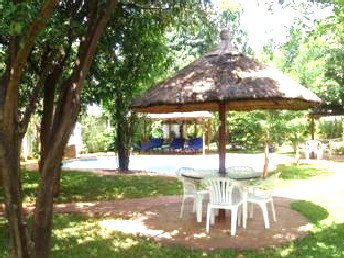 The Beautiful Chanters' Garden
Richard's experience characterises the focus on the comfort and the quality of service to a family or a single traveler and the rates to march that preference. This service includes air-conditioning and satellite TV for your personal enjoyment and evening relaxation. And a comfy bedroom to give you a restful rest for the day.
Take your rest in one of Chanters Lodge's Bedrooms
Just listen to Richard explain in his own words; "We offer a well stocked bar and Chanters boasts one of the best known and loved a la carte restaurants in Livingstone with a wide variety of dishes on the menu. Zambian dishes are just one of our specialities! Chanters prices for accommodation, food and beverages are very reasonable..."
Now being a discerning traveler myself I wouldn't like to miss that experience. Find out more about Chanters Lodge .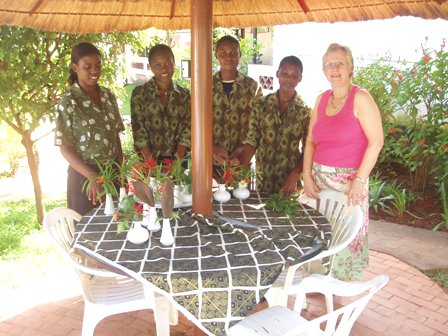 Chanters' Girls Training on Flower Arrangement
Staff training is paramount.
Important to note...

As for visas... with prior notice Richard will arrange for you free entry visa into Zambia and provide free airport transfers on request. He will also arrange a safari tour or safari adventure to satisfy your desire. This may be for you alone or a group, family or colleagues.
What's my advice... Fill in the form below to send my friend Richard an e-mail.
Telephone:
+260 (0) 3 323412 or +260 (0) 97403740
Postal Address:
P.O. Box 60623
Livingstone
Zambia

---
Home | Victoria Falls | Car Rental | African Art | Africa Travel | Adventure Travel | About Us | Zambian Tourism | Archives | Search the Site |

Zambia African Safari © ZAS 2004
---