Dr Livingstone: Missionary Doctor
Explorer & Slave Trade Abolitionist
Growing Up; The Early Years
Dr Livingstone was born on March 19, 1813, in Blantyre, Scotland. In 1823 he began work in a cotton-textile factory. Later, during his medical studies in Glasgow, he also attended classes in theology, and in 1838 he offered his services to the London Missionary Society.
At the completion of his medical course in 1840, Livingstone was ordained and was sent as a medical missionary to South Africa. He arrived at Cape Town South Africa about July/August 1841. Then he traveled to Kuruman, a settlement founded in Bechuanaland (now Botswana) by the Scottish missionary Dr Robert Moffat.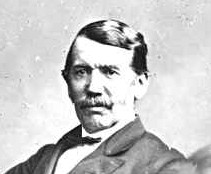 Dr David Livingstone
Courtesy of Microsoft ® Encarta ® Encyclopedia 2002
Dr Livingstone began his work among the black Africans of Bechuanaland. He learnt their language. Later he visited Chief Setshele at Shokwane, 250 kms north of Kuruman. There he set up a mission but found active hostility from Boers, who were white settlers of mostly Dutch background.
In 1845 Livingstone married Mary Moffat, daughter of Robert and they had four children. Working together, the Livingstones travelled into regions in northern Botswana. Accompanied by his wife and children, he traveled north and saw the Zambezi River for the first time in 1851. They crossed the Zambezi at Mwandi halfway between Kazungula and Sesheka.
The white farmers did not like Livingstone's missionary work. So they destroyed his mission station. This forced Dr Livingstone to send his wife and children to England. He took them to Cape Town and put them on a boat to England.
The First Journey (1852-1856)
Dr Livingstone's interest became the opening up the interior of Africa. He decided to look for a route to the interior from either the east or the west coast. He travelled north from Cape Town through Botswana and crossed the Zambezi to western Zambia where he met the Kololo people.
Then he went west to Luanda on the Atlantic coast. The west coast did not march to his expectations. After a few months he set out again to cross the African continent. He arrived at Zambezi River and decided to follow it to the east coast. Two years earlier the Kololo people had told him about a large water cataract nearby. He felt then that they had exaggerated it. Livingstone now decided to see the waterfall.
On November 16, 1855 he arrived at "Mosi-Oa-Tunya" which literally translates to "the smoke that thunders." He named it Victoria Falls in honour of his queen. The beauty of the site so moved him. He couldn't resist writing down in his diary the famous words, "No one can imagine the beauty of the scene…scenes so lovely that they must have been gazed upon by angels in their flight."
Dr Livingstone missed the great Cobara Bassa rapids down stream of the Zambezi because he did not follow the river but cut across eastwards to the coast. This first journey lasted 4 years and covered 6,600 kms (4,300 mil).
Livingstone's explorations resulted in a revision of all contemporary maps. He was welcomed as a great explorer in Great Britain upon his return in 1856, and his book "Missionary Travels and Researches in South Africa" (1857) made him famous. He resigned from the London Missionary Society. In 1858 the British government appointed him British consul at Quelimane (now in Mozambique) for the east coast of Africa and commander of an expedition to explore east and central Africa.
The Second Journey (1858 – 1864)
The British government sponsored his second journey because he had resigned his position as a missionary.
Dr Livingstone made comprehensive exploration of the lower Zambezi and Lake Malawi around the Shire River. In March of 1858 with Mary, Dr John Kirk and his brother Charles he sailed to Cape Town. His wife Mary fell sick and stayed behind as they sailed up to the mouth of the Zambezi River.
Up stream he discovered the Cobara Bassa rapids. This shattered his dream of ship route into the interior through the Zambezi. Later he reunited with his wife but unfortunately four months late she died of fever at Shupanga. He was badly shaken. He threw himself into more work. His members of the expedition found him dictatorial.
Clearly his long periods with Africans servants who had followed his every word had taken its toll on him. This was evident in 1858 when he led an expedition up the Shire River, a tributary of the Zambezi, and became the first European to see Lake Malawi. In 1861 he also explored the Ruvuma River, finding Lake Chilwa. During his exploration of the country around Lake Malawi, Dr Livingstone became greatly concerned over the deprivations of the indigenous Africans by Arab and Portuguese slave traders.
In 1865, on a visit to England, he wrote "Narrative of an Expedition to the Zambezi and Its Tributaries", which included a condemnation of slave traders and an exposition of the commercial possibilities of the region (now mostly part of Malawi and Mozambique).
Click here to read Dr David Livingstone the later years.
---
Home | Victoria Falls | Car Rental | African Art | Africa Travel | Adventure Travel | About Us | Zambian Tourism | Archives | Search the Site |

Zambia African Safari © ZAS 2004
---